The European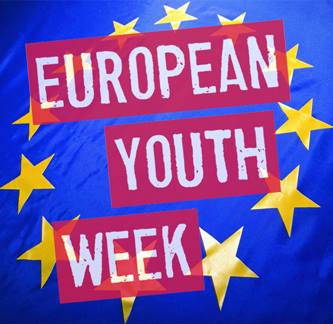 Commission organizes European Youth Week 2015. From 3 to 10 May many celebrating events and activities in Bulgaria were being led by the Human Resource Development Centre (HRDC) - see more here. The theme of the Week is encouraging and helping young people to take part in civil society and in the employment market.
During the European Youth Week the European Commission gave Youth Awards to the best projects funded by the "Youth in Action" and "Erasmus+" Programmes. Over 150 projects were nominated by National Agencies for these Youth Awards, as examples of outstanding practice in their particular area of activity. These have been shortlisted down to just 35 projects, one per country.
We are extremely proud and happy that our project "Let me be One of You!" is one of these best projects!!!
On this occasion the President of YMDRAB Mrs Yordanka Tsvetkova and the Vice-President Mr Yonko Dodev participated in the official events for celebrating the European Youth Week in Brussels.
On 6th of May they took part in High Level Political Debate. Following a keynote speech from Commissioner Navracsics and addresses from Silvia Costa MEP, Chair of the European Parliament Culture and Education Committee and Mārīte Seile, Minister of Education and Science from the Republic of Latvia, a debate was held on the topic of "Enhancing youth participation to prevent intolerance and antidemocratic behaviour". The speakers were joined by three additional policy and opinion formers with experience in this area.
Following the debate, the European Youth Week 2015 Youth Projects Awards were presented to the selected youth projects. Our project was awarded with a Certificate as an exemplary project in the category "Training and Networking of youth workers to support youth empowerment".
A description of our project is included in a special brochure published by the European Commission. This brochure presents the best inspiring practices within the "Youth in Action" and "Erasmus+" Programmes.
Also our project was presented at a pop-up exhibition on the Esplanade of the European Parliament, as part of the YO!Fest organised by the European Youth Forum. For more information about the event, please visit the YO!Fest website.
Thank you very much HRDC for the high evaluation of our youth work!
It definitely motivates us to continue working hard supporting the personal and professional development of young people from the rural areas of Bulgaria!